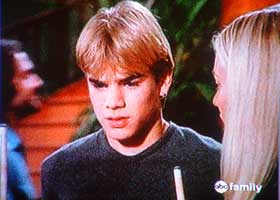 ABC Family is becoming so artistically progressive lately, I tell ya! A couple hours ago, I turned on the TV and was flipping channels when I came to rest on what appeared to be 7th Heaven, and I was hearing some kind of voice-over. It looked like they were doing one of those effects where time stops briefly and we hear the thoughts of the character before they unpause time and we continue. And then the voices kept going, and the video (that shot on the side there) stayed still. For 30 seconds. Then a couple minutes.
Then the scene (in his mind?) changed, and went on for awhile. If this was Space Ghost, I wouldn't have given it another thought, but as far as I know Space Ghost hasn't crossed-over with 7th Heaven. Then the voice-over changed again and said, "New Johnsons' Soft Lotion is for grown-ups!"
At this point I realized that something was seriously wrong. I said, "Steph, look at this!" Her response was a simple, "Oh yeah, it's been like that since yesterday."
Yesterday.
Wait, let me flip back there now and… yep. Still stuck. Now he's staring at the floor, holding his pool queue, and wondering, "How did we get the Government's highest safety rating?" Either someone at the station has locked themselves in and is having a little fun, or the guys running that place are morons. I wish I knew which it was.