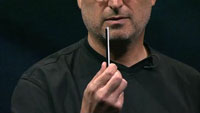 It's actually slightly embarrassing that instead of blogging about all the significant or interesting or deeply-personal things that have happened to me in the last few weeks, I'm going to post a link to the iPod nano, but I just wanted to hear your comments.
It has a color screen. It has 14 hours of battery life per charge. It's thinner than a standard "No. 2" pencil. Now you know what that secondary, tiny pocket nestled inside your front-right jeans pocket is really for.
I'm not personally planning on buying one since I just got a 60 GB iPod last week (my previous one was suffering from old age and abuse), but man, if I didn't have an iPod, and if my music would fit in a 4 GB space, I'd be all over it.