About 24 hours ago, Nintendo president Satoru Iwata unveiled something truly amazing about Nintendo's upcoming game console. It wasn't the name (they're calling it the "Nintendo Revolution" for now). It wasn't the look of the console (it'll be about the size of three DVD movie cases stacked on top of each other). What he showed, and the thing that is causing all sorts of buzz in the gaming industry right now, was the Revolution's controller. Leave it to Nintendo to not only innovate, but to be innovative in where they innovate. Most companies are pushing the boundaries of realism in graphics and sound. That's fine. Personally, I don't think that will be lastingly satisfying. We've been improving graphics since we had graphics, and the changes never really please you beyond the first 30 minutes you see them. But how the player interacts with the game… that hasn't changed much lately, and when it changes, it changes the very roots of the player's connection to the characters on the screen.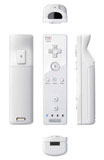 I won't go into exactly why I think the controller is so cool. If you want to see a two-minute video about it (I know you do), just download it from IGN. You'll get the idea pretty quickly. The central idea is that the Revolution knows exactly where the wireless controller is, how it's moving, at what angle it is being held, how it's being tilted, exactly how far it is from the TV. Everything.

If you want to understand the idea a bit more thoroughly, check out IGN's 19-minute video, including the most important part of Iwata's keynote. It begins with the same 2 minutes of the video above, so you don't have to download both.
I'm extremely excited. Swashbuckling, gunplay, fishing, conducting… flashlight-wielding? I love it! I have no doubt this is going to be amazingly fun and refreshing. The only concern I have is that developers aren't creative enough and won't come up with games that truly utilize all the possibilities. But Nintendo is usually the only developer that fully utilizes their own console, so that's nothing new.