Since I don't have much time, I'll keep it simple. I just bought one of these: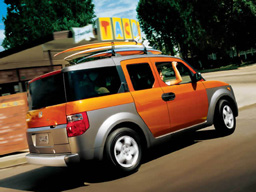 …to replace one of these: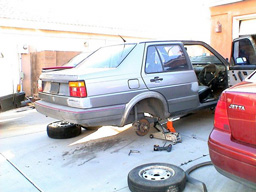 I'm extremely excited about it. The Element has an auxiliary input jack for the stereo, so my iPod's sound is totally pristine. No radio fuzz or tape wheel squeaking going on. I've even got a sweet little iPod mounting arm on the dashboard that charges the iPod and holds it in place as it plays music. It's got seven speakers and a subwoofer, too. And five cup holders. Add the dorky-yet-hip, orange-lunchbox-on-wheels aesthetic, and it's clear this is the perfect car for me.
Aside from that, you can take the back two seats out and have more room than you'd ever know what to do with. You can literally hose the Element's floors off if they get dirty. It's got a power outlet in the front and in the back. I actually considered setting up a little desk in the back with a power strip, and just war driving around to see what I could find. Yes, it'll take surfboards to the beach. Yes, I'll actually do that with it, too.