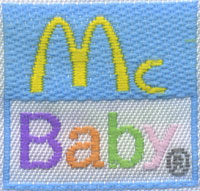 Steph and I have been buying (and receiving generous gifts of) baby clothing lately, preparing for the imminent September arrival of our own progeny. As we were sorting the clothing into size bins (which, for the first year, goes in groups of three-month chunks! Interesting.) I came upon a tiny shirt with the tag you see here: McBaby. Don't misunderstand me, it's a fine shirt. My son will wear it, and I'm sure it'll serve its purpose well. But the brand begs a question.
What in the world could McDonald's be thinking? If there's one thing I know about business, it's this: inefficient diversifying is death. What you say "no" to as a business is far more important than what you say "yes" to. Put another less interesting way, "Do very few things, and do them well."
I'm trying to put the ideas of fast food and baby clothing together. I understand that McDonald's occasionally strays off the path of fast food to invest in more noble pursuits, but that doesn't logically include the fashion industry. This clothing is a for-profit deal.
You can't argue that they're doing it to expose babies to the McDonald's brand and logo as early as possible, because the logo is on a tag inside the shirt, behind the baby's head. Perhaps this is for poltergeist babies? Either way, it's not exactly eye-catching for a kid who's already busy contemplating the ceiling fan, and wondering what his hands are.
Is it branding for mind share of the parents, then? Or whoever dresses the kid? Perhaps, but again, why not just be direct and advertise your food if you're a restaurant? Why get into an entirely new business model, new outlets, new partners, new strategies, just for one more logo that only new parents will see, and only occasionally at that? Their brand isn't that saturated, is it?
It can't be the cool factor. McDonald's restaurants aren't nearly as rare as Hard Rock, for instance, so the shirt doesn't have that "traveller" appeal. I think everyone assumes I've been at least 2 miles from home. Nothing to brag about, you know? McDonald's brand by itself isn't really so "cool" as it is "fat and lazy", so I doubt they're just trying to do this on brand strength alone.
I'm absolutely perplexed. Help me out here. Why was McBaby a good idea? How could a company with this much experience in brand recognition throw effort away like that?
(I understand that in the big picture it doesn't matter. I'm honestly just trying to see if there's a lesson in here somewhere that I'm totally missing.)