It's no secret that I'm a geek, but even as a geek I usually only get excited about technology that is consumer-facing. I'm not a hardcore server enthusiast or networking guru. I don't really get pumped up by load balancing algorithms or optimizing compilers. The technology I love most is the technology created to be enjoyed and used by the average consumer. That's why I love Apple. The average consumer is Apple's focus.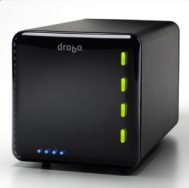 I mention this because I recently got excited about something that probably isn't "average consumer" material. Maybe it will be one day as people begin to store their most precious possessions digitally, but it isn't there yet. I got exited about redundant data storage. More specifically, I got excited about Drobo. If you want to know why, just watch the demo video. When it comes to the topic of redundant data storage, Drobo is hot, my friends.
I don't care that RAID has existed for a long time and this isn't a new idea. Drobo's way of approaching the problem is so friendly and so simple that it just can't fail. And when you pair Drobo with an AirPort Extreme you've really got something amazing.
Now if I could just scrape up an extra $500.
If you're curious and want to know more, check out the Engadget review and the CrunchGear review.