What I'm going to say in this entry is very challenging for me to verbalize. Stick with me, here.
I have a deep desire to be a person who makes real things that are useful and delightful. I've been working really hard at The Table Project for many months, and I've been learning a lot about hard work and how to sustain it. I've also learned that the work affects me just as I affect the work. I've changed because of my work.
One of the main things that has changed within me is the heightened value I place on silence. Silence of many kinds.
When I'm making something, I'm deeply motivated by the anticipation of discovery on the part of the person that will receive my creation. Will it help them? Will it make them smile? Have I thought through all the ways they'll use it and considered everything from their perspective? I can't see their reaction if I don't finish what I'm making. They won't benefit unless I do a great job. I create with those thoughts in my mind. But it's not as simple as that. You may not agree with what I'm about to say, but stick with me.
I'm learning about the demotivational power of talking.
There is a vast, gaping difference between talking about doing a thing and really doing it. I have been the crowned and reigning king of "talking about doing a thing" in the past, and this blog stands as a testament to that.
On the simplest level, talking is demotivational because great creation comes from a quiet, solitary place, not from meetings and committees. On a deeper level, talking about what you're doing and giving people a preview of the future is demotivational because you may be receiving praise which you haven't yet earned. That's extremely dangerous. When you go back to your quiet, solitary place to finish that cool thing you just told your friend about, their praise is still ringing in your ears, reducing the reward that is still beyond your reach, and slowing you down. You can't afford that tradeoff. It would've been better to not tell them what you had done until it was ready. And at that point, there's less need to tell, because you can show.
This newfound belief affects me in a few ways. You'll notice, for instance, that this is only the 6th blog entry I've posted this year, and the year is half over. Last year, I had written 15 entries in the same amount of time.
And it's not due to Twitter. This graph of my tweets per month, particularly since last July, will tell you a strange little story as well.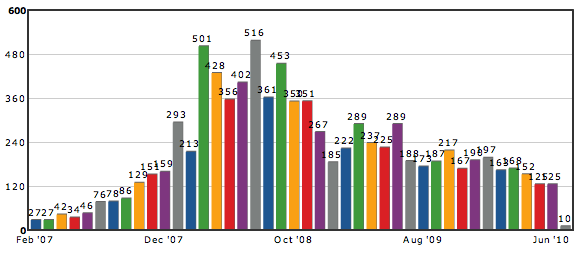 I'm not doing this on purpose. It's a habit that has naturally evolved. I'm no longer the guy who tweets 500+ times each month because I now realize I don't have 500+ worthwhile things to say to that audience each month. It's not censorship, it's editorial and it's filtering. It's respect for the listener, I hope.
Speaking of listeners, they're also at risk in this problem. I'm growing tired of bloggers and content producers of all kinds that don't know when to shut up and reflect. My apologies if that seems rude, but if you're publishing to meet a weekly quota, you're doing it wrong. Don't game the crowd; make something of quality. If you have a lot to say, that's fine (look at the length of this entry), but please don't assume you can take our attention 9 times a week because your analytics tell you that's your ideal posting frequency to generate higher traffic and ad revenue.
But if you happen to make 9 quality things that week, by all means, share them all. Show me what you've done. My favorite blog, Daring Fireball, is quite noisy, and I've never regretted reading it. The content is good. It earns its place.
This all relates to the reason that I rarely if ever go to the Social Media Breakfasts anymore (although I really like many of the people), but I participated in the Overnight Website Challenge this year and found it very rewarding. I hope to do it again.
Less talk, more rock. Fewer conferences and meetings, more product and creativity.
There are downsides for me and others in this change, too. In the midst of focusing constantly on creating The Table, it's become harder for me to carry on conversations in general, and it's nearly impossible now for me to be in the moment completely. My mind has become so focused that I've caught myself thinking things like, "How can this conversation/situation benefit The Table?" even while spending time with family and friends. It's pretty weird, and it's something I'm trying to address. Focus shouldn't have to lead to workaholism or personal narrowness.
Because of all these thoughts and some conversations I've seen on the web lately, I've decided it would make sense to disable comments on this blog for the foreseeable future. I want it to be really clear that I still deeply treasure all your past comments, and I haven't removed the ones that have been made. They are a part of a permanent record and a precious heirloom to me. Many of you have corrected me and changed my mind on various topics, or made me laugh, or warmed my heart, and the evidence is right there in the thread.
I still want to hear from you in almost any way you'd like to have a conversation with me. If you want to contact me, you can do so in any number of ways, including directly from this blog. If you want to just say you liked what I wrote, there's a little Facebook "Like" button at the bottom of each post, even in the RSS feed. I'd love a click. If you want to respond publicly to what I've said, making your own blog entry and linking back to this one would be the best way to do that for many reasons. Creating a blog has become so wonderfully, deliciously simple that there's no reason anymore not to have one if you want one. Go for it! I might even write a public response if you're making good stuff.
I hope that the lack of comments here allows you to focus a little more on your own work, say what you wanted to say a little more quickly (perhaps with a single button click) and even consider whether certain things need to be said at all.
Now, go to your quiet, solitary place and make something.