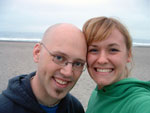 Steph and I had (and are currently having) a great time at Stinson Beach. We spent the day walking about town, hanging out at the beach, and eating at the local restaurants. Tip: when you order the Chili Dog from the snack stand, tell them to give you more dog than chili, or they'll bury the thing as though the hot dog is a nice surprise to discover after you've dug to the bottom of the cheese and beans. Soggy buns are OK after swimming in the Pacific, but no one orders them for dinner.

This evening we saw The Fantasticks. It was decent. Maybe a notch above "meh." That's a little sad, because The Fantasticks can be so incredibly moving when done right. I think the narrator needed to be a bit older, and smoke a few more cigarettes or something. He was too smooth, and too tenor. I could stomach his acting, but the music really needed to shine, and it didn't quite get there.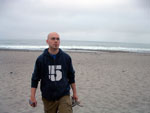 The good news, though, is that the theater and the beach are both incredibly close to our motel, so everything is easily accessible by foot. And when I'm the one saying that it's easy to walk somewhere, you know it's gotta be true.
Our motel room is relatively huge, though not overpriced. It could probably sleep six people since it has two double beds and a futon. It even has a tiny kitchen, living room, and a couple workspaces. Luckily they're only making us pay the two-person fee.
I decided earlier today that I wanted to spoil Stephanie a bit, and I knew what she had been wanting. I didn't get her that exact kind, and I didn't pay nearly that much. In fact, I got her a board (including the fins and a leash) and a new wetsuit for quite a lot less than the board she linked to in that blog entry, so I think it was a good deal. She really likes it. It's at least a good board to learn on. Not necessarily the kind of thing you'd use for years. I'm looking forward to seeing her improve, but most of all I want her to have something new and interesting to do when she needs inspiration, and have a new area to grow into. So the board is wedged into the car right now, and it sticks up into the passenger seat. She doesn't mind riding with it.
I was dismayed to find that our motel didn't have wireless access, but as evidenced by the existence of this blog entry, that didn't stop me. A little MacStumbler and a short car ride later, and we had discovered nine different wireless access points. (It's like treasure hunting!) Ironically, the only one that worked well and appeared to be wide open was coming from an art studio directly next to our motel, but I didn't start scanning until after we pulled out of the parking lot and went on our journey, so I only found it just after we pulled back in half an hour later, having given up hope. I stood in the parking lot for almost 20 minutes after I found it. Yes, Stephanie joined me and we both checked our email. I'm not being antisocial on our vacation. The good news is that the signal comes in almost as well from a little alcove with a table and chairs just down the hall from our 2nd story room, so I don't have to stand in the parking lot in spot #9 to get on.
But you know I would.