Note: this post has a very important update at the end that changes the entire post. Don't miss that.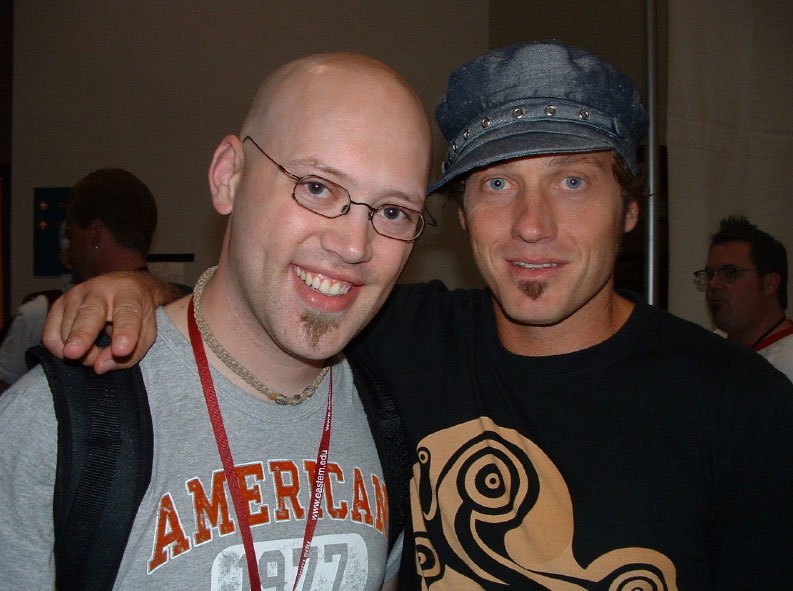 About a month ago I had the pleasure of (extremely briefly) meeting one of my childhood heroes. That's me and him there. Note the subtle peace sign he's managing in spite of the angle of his hand. For those of you who don't know, that's TobyMac. He is (was?) one third of dc Talk and in the last few years has branched out on his own, seemingly due to artistic differences, blah blah blah. I loved this guy because he was stylish, ultra-hip (especially with that fanny pack… not!) and a Christian. Plus, he gave me an alternative to the nasty rap I listened to in the late 80s and early 90s (Digital Underground, anyone?) because Toby's lyrics actually encouraged me to respect women instead of using them like tools to accomplish an end. So he's got that goin' for him.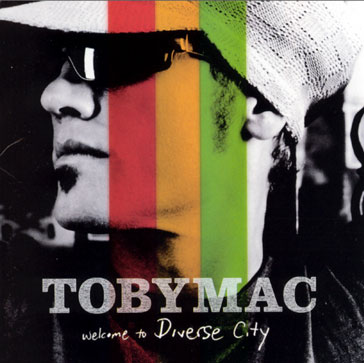 So now he releases a new album called Welcome to Diverse City, and after hearing the album I'm starting to think about Toby's racial issues a bit more. Toby has been fighting racism with his music for at least 15 years, but part of me wonders if he's actually taking it a little too far with his image, and pulling some kind of "reverse Michael Jackson" thing. After having a conversation with Camille, this stuff started to churn in my mind. It seems like Toby almost thinks he's black, or wants to push his "blackness" to the forefront of everyone's minds.
What do I have to support this claim? Let me point out a few things. For instance, the three stripes of color on the cover of Diverse City (and all over Toby's site) are most immediately recognized as the "Pan-African colors". I'm guessing those colors were chosen fairly purposefully. Also, one of the songs on Diverse City called "Fresher Than a Night at the W" contains these lyrics, which are somewhat typical of Toby's writings about racism:
You're probably sayin 'Yo we've heard quite enough of you
With God and your rhymes and that freaky Jesus stuff you do
Like always pushing for that racial diversity
Leave us alone, we're at home in our fantasy
I know a guy who knows a guy who has brown skin
Once in awhile if it so happens I'm around him'
Am I a bad person if I don't have a bunch of black friends? I guess I don't buy the argument that if you're not friends with someone you don't love them. Friendship and love are incredibly different things. I'm not saying Toby is definitely making that argument, but it feels like it on first listen.
As I was thinking about this, I recalled that in one of dc Talk's early videos (for a song called "Walls") Toby raps, "So whether black sheep, white sheep, or even swirl / God watches over all the sheep of the world." On "black sheep" Toby points to Michael, on "white sheep" he points to Kevin, and on "swirl" he points to himself. I'm not kidding; go watch the video. It's about 2:53 in.
In a song titled "Love is in the House" on his last album Momentum Toby actually comes straight out with it by singing, "Love is in the house, and the house is packed / So much soul I left the back door cracked / Daddy always said that I wish I was black / Love is in the house and the house is packed."
Am I insane? Obviously if you just happen to hang with a crowd that is racially different from yourself, that's no big deal, but doesn't it seem equally racist to purposefully seek out other races simply because of their race? Isn't that proposal attempting to solve a racist problem with a racist solution?
Update from the comments section 11/9/2008: "I just wanted to come back onto this thread, years later, and say that I now agree with David's comment (below). Saying that a person has to act a certain way in accordance with their skin color is definitely racist because it takes their race into account when deciding what they should be and how they should act. That's wrong, and I recant."