In the great tradition begun by Jeff, I'd just like to say, "Say hello to my little friend." Every Apple employee was given a free 1 GB iPod shuffle yesterday. w00ts are in order.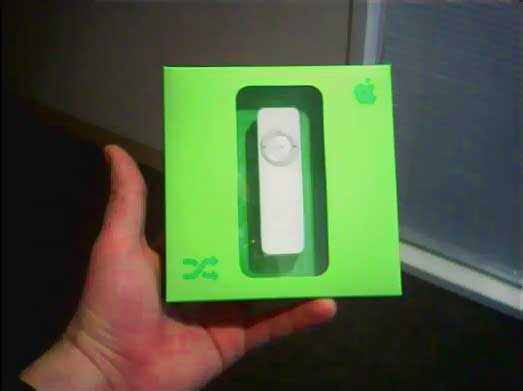 I think everyone who gets an iPod shuffle has to introduce it with a blurry (optionally cellphone camera-produced) shot of their left hand holding the unopened box. That would be great. Thanks.
I named my first iPod "Apollo" after the god of music, since mine holds all the music I've ever owned, and then some. This iPod is named "Mars" after the god of war, because I think it's the most aggressive little product we've ever released. I love this little thing. It's actually really refreshing to not know what's coming next, or sometimes, to not even know what's playing right now and have to really listen to it instead of allowing the iPod's screen give you an easy answer.
When I'm wearing it on its lanyard I tend to keep it under my outer shirt and over my t-shirt because I don't like the tangle of white cords showing. It looks messy. But it's still really easy to operate because I can feel the button placement through my sweatshirt (or whatever I'm wearing). So when I pause or skip a track, it looks like I'm pressing an invisible button on my sternum. Maybe some day Apple will make a shuffle that has direct integration with biological life-forms. Sweet. Until then, lanyards are OK.